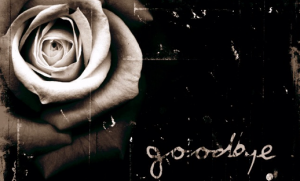 This week I found myself stood at the back of an old chapel in Liverpool being reminded of just how much our goodbye's cut against the grain of all that God originally intended for us.
Having just conducted a service for a young woman's father. I watched with sadness from the back of the chapel, each guests having respectfully filed out, the daughter and her husband, standing by the coffin, arms draped and head resting on its lid, sobbing, yearning, longing for yesterday, for a time of welcome and hello. A time when the two shared life, love and laughter.
Why do goodbyes feel so unnatural?
Why is it that we each sense something in our DNA so routinely normal and relaxing about a welcome, a greeting that isn't there in goodbye? Could it be that under grace we have each been designed predisposed to welcome? That God built us for "hello's" but sin has forced us to endure "goodbye's"?
Surely Eden was never conceived to entertain farewells but hello's? Surely God's intention was always to be found in a greeting, a welcome, an embrace, not in a departing or a goodbye.
We each live with the reality of the finiteness life. It is an ugly one, a difficult one. Knowing that those we love will one day not be in our bed, at our table, by our side, or share our worries, carry our concerns or revel in our successes and celebrate our joys, is a heart breaking reality.
The first garden, the first man, the first sin and humanities fall have combined to ensure that sooner or later we are all destined to carry the broken and unnatural weight of a lonely, deeply wrenching goodbye.
A depopulated world
In the same week of seeing the pain of this daughter losing her father, I held the hand of a young woman, riddled with MS and confined to a wheelchair, as she battled the emotional upheaval of an unwanted goodbye.
Her husband of 17 years had been her lover, her brother, her best friend and her carer, noted and celebrated for his deep concern and unflinching devotion to her.
'There are some', wrote one philosopher, 'who when they leave us it feels as if the whole world is depopulated'. Where do we go after our goodbye's? "We get on with our lives" we are told, but do we?
Of course we do, but there isn't a person who has experienced such a heart warping goodbye who will tell you that they got on with it very differently than before. That they now walk with a limp in the soul, a lisp in the heart, a stammer in the spirit. Nothing has changed but everything is different.
Goodbye does that to us all. It doesn't simply close a chapter, it adjusts how we read the remainder of the book.
Goodbye leaves us with question that often never find answers. Emotional gaps that never quite get filled to the same capacity. It leaves us with relational hiccups and blind spots.
Life after goodbye
But go on we do for go on we must. In our sorrow and sadness we often discover resource we hadn't appreciated. Such as how grace had allowed us the richness of many hello's over the years to better fortify us, amongst other things, for that final, inevitable, goodbye.
Ironically, the many times of rich enjoyment and deep joy that we shared together whilst they were with us, though at first may make the reality of goodbye seven times harder, will eventually prove to be the essential ammunition necessary in helping us to live with our farewell.
The great 19th century London preacher Charles Haddon Spurgeon, often reflected how that at the point of death the Christian would be given what he called "dying grace". Resource from heaven that hitherto he/she had known nothing about.
I tend to believe that in a similar way, God gives "goodbye grace", the ability to deal with the loss of those who shared so much of life with us.
I don't think such grace comes all at once, nor is it always immediately impacting. Over the days and weeks I have a suspicion that it leaks intravenously into our souls enabling us not only to live at a level of emotional health, but to live in the fond memory and joyous recollection of all those wonderful hello's.
It has a way of recapturing again and again all those moments of joy and laughter and love. Moments our grief is in danger of overwhelming and silencing.
God exudes hello!
He gushes welcome!
But he equally carries a soulful familiarity, an unfathomable appreciation of the disruptive, wrenching impact of goodbye.
He is "a very present help in time of trouble" because he has lived in trouble. He has experienced, with some unspeakable profundity, goodbye.
If today finds you struggling with goodbye, in whatever capacity, be assured that the God of a joyous hello, is equally the God of a painful goodbye. And he will restore, reassure and rebuild.
Life may never be the same, but it does not have to be any less than what it was.
peteinthoughtblog
http://peteinthoughtblog.wordpress.com