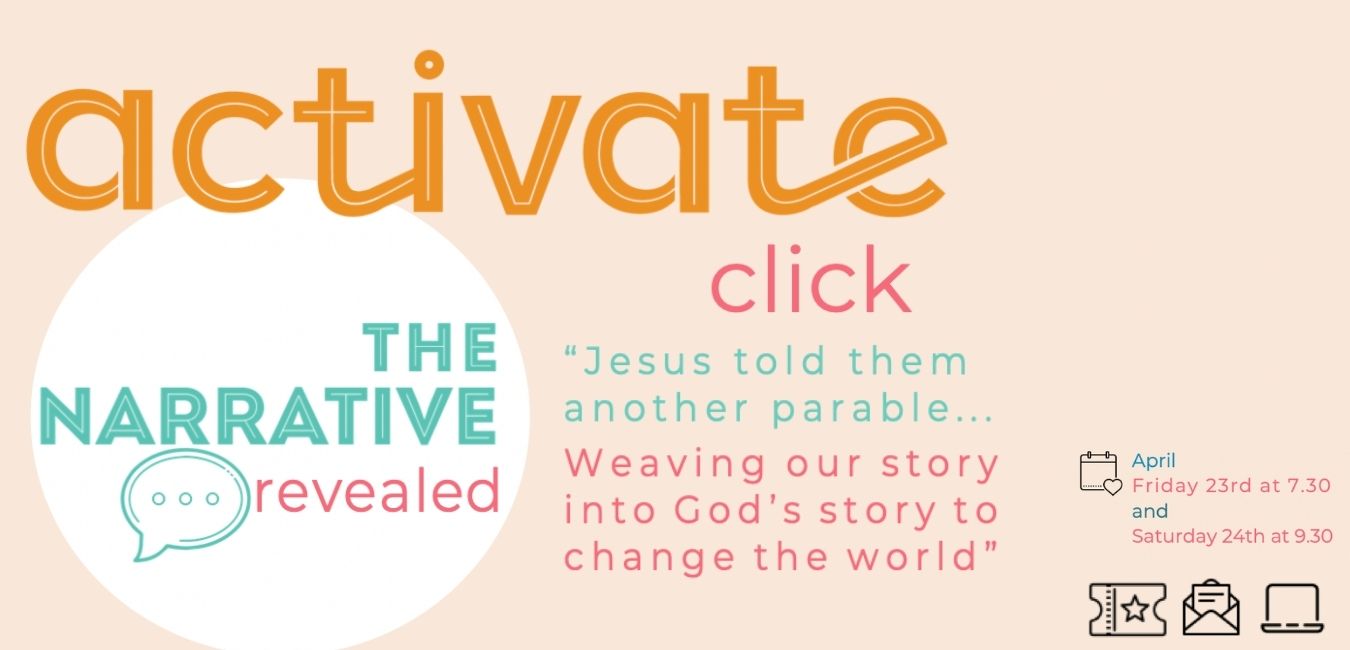 There is power in a good story!
Our third Click event reveals the meaning behind four of Jesus' parables and discusses how the narratives bring life to our individual stories today.  God has designed us to use our stories to help change the world!
There'll be four main sessions, with worship, chat, team catch-ups, small group discussion, and of course, lots of stories!
We're all disappointed that our weekend away had to be cancelled for the second time so this time we're going bigger and better.
We're bringing you a taste of a weekend away by running the programme over a Friday night and also a Saturday morning.
Please try and join in with both if you can.
(Sorry, you'll have to create your own spa – maybe a foot spa?!)
Please book a place, and tell your friends!
Each person who books a place won't simply watch, they'll be part of the experience, thanks to the interactive nature of Activate Click.
We're asking for a donation of £10.  
If you can't contribute at this time, please just use the promo code NARRATIVEFREE to bypass payment.
"All the Activate weekends that I have ever been on have always left me re-energised, given me time to consider and reflect and better equipped me for my everyday life.
Would the Activate Click event do all these things in such a short space of time? YOU BET!"
"Amazing presence of God, challenging and encouraging."
FRIDAY EVENING 7.30-9.30pm
Welcome
Lockdown quiz challenge (you can just watch if you hate quizzes!)
Team lockdown stories
Worship
Session 1: Sarah McKerney
The Parable of the Prodigal Son
SATURDAY MORNING 9.30-11.30am
Welcome
More team lockdown stories
Worship 
 Session 2: Mandy Catto
The Parable of the Talents
Session 3: Fiona Castle
Session 4: Sarah McKerney
The Parable of the Sower
Discussion groups between each session
TERMS & CONDITIONS
1. Full fees payable at time of booking.
2. Cancellations are possible up to a month before the event and only granted if there is a medical emergency. All cancellations must be received in writing.
3. Bookings can be transferred if requested in writing. If you don't have anyone to take your place, please contact us and consider donating it to someone who cannot afford to come.
4. In the event of changes to the programme or speakers, we are unable to offer refunds.
5. Your email address will be included on a secure MailChimp database in order to update you on the event and keep you up to date with Activate news (you can also sign up here).