Great News! A selection of talks from various Activate events and conferences are now available right here.
This free service is available by simply clicking the play button next to each title below, or have a look at some of the talks from 2018 and 2019 conferences here: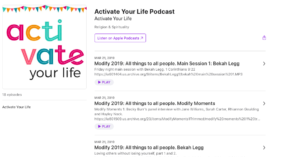 https://podcasts.apple.com/gb/podcast/activate-your-life-podcast/id1359049384
More talks from 2022 coming soon. 
If you like what you hear, why not Book a Speaker for your event and make sure you visit the website regularly for news on events, training days, conferences and weekends away where you can hear us in person.