Our writer Pete Jobes is back with another inspirational article. Take a few minutes and enjoy…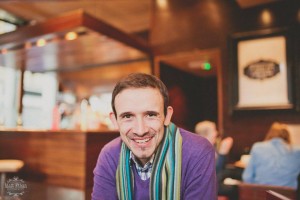 I had Vietnamese food with Jesus the other week. I'm not going to lie; it was a pretty good experience. The company was great and the Caramel Pork in a clay pot was excellent. We went for a cuppa and a slice of cake at a local café this past weekend too. It's always good to spend time in good company.

I thought, as some people get confused by the many different depictions of him in art, that I'd maybe give you a description but this is where it gets difficult. Sometimes he's a six foot Caucasian male with pierced ears; other times he's a smiling blonde haired young woman in a Barbour jacket. Sometimes he's Chinese but then it's equally likely he'll be African and on occasion has been Scandinavian. Perhaps I should explain.

I have not been using anything hallucinogenic or seeing visions. I have not gone through Facebook and befriended everyone called Jesus. I have not lost my mind. I just believe that often the way Christ chooses to show Himself in our lives is through the church, both as individual believers and a collective body.


I'm not ruling out that you might see a vision of the resurrected Christ burnt into your toast in the morning but I have to be honest – I find it unlikely. Equally while you may find the answer to all of your problems by staring at a statue of him on a cross, He got down from there long ago. I believe that frequently the answer to our prayers comes not in some miraculous sign but through the church, who Paul tells us God has chosen to become like His Son. (Romans
8:29
)
For God knew his people in advance, and he chose them to become like his Son, so that his Son would be the firstborn among many brothers and sisters.
This is a big reason why being part of a church community is so important. If we really love Jesus then we find ourself in the lucky position of being surrounded by people in the process of becoming more like Him.
The give and take in church community is that at times there will be those who help us to become more like Him, and times when God uses us to help them. Often what we need isn't a supernatural experience that leaves us breathless, it's time spent with others on the same journey.
We need to seek out the company of people who present us with an image of Christ, and we need to present that image to others in our community. So often God uses His church to answer our needs and prayers.
At this time of year there is often a particular focus on family. This is a good thing, a great thing. It's important that we remember that our family isn't just the core of our blood relations but that we're joined by Christ – the firstborn of many brothers and sisters. So this Christmas, can I encourage you to remember to be an active part of church community? You may just meet Jesus, or someone else may meet Him in you.​