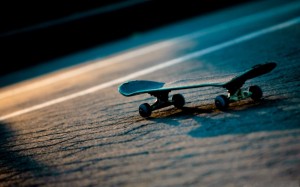 We had been praying and planning for months now.  We approached the leadership of our church and asked if it would be possible to try out this new type of service in our church sanctuary or hall on a Sunday afternoon.  The idea was graciously declined.
So we continued to seek God's guidance and sought out the possibility of meeting in another building elsewhere in our community.  Meanwhile a Christian friend was trying to get the support and funding together to open a Christian skatepark. The two projects had some similar goals and could share the same resources. After quite a few more meetings, it was decided to explore the possibility of putting our support: in financial, prayer and volunteering terms behind the skatepark venture. So our hopes and dreams became entwined in a scruffy warehouse at the bottom of an industrial estate on the edge of our town.  It was cold, draughty and surrounded in weeds and barbed wire. But it had a lease secured on it, and planning permission was sought with a broad brush, including the possibility of a cafe and as a place of worship.  The permission was granted, the building work progressed and with much excitement the opening approached.
This building looked nothing like a church, there were ramps where pews might have been expected.  The cafe had Ikea plastic and funky wall colours.  There was no pulpit,nave or aisle but there was a great coffee machine. This was shaping up to be, not a church without walls, but an outreach with wheels on!