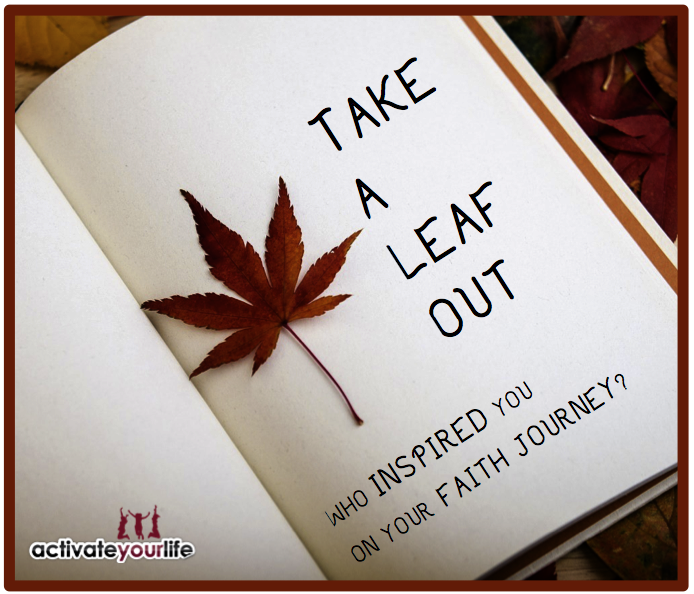 TAKE A LEAF OUT:
WHO INSPIRED YOU ON YOUR FAITH JOURNEY?
Happy new term!  Whether you keep in step with the academic calendar or not, September is a time for new beginnings.  This month we're celebrating the people who shaped us – we 'took a leaf out of their book' somewhere along the way.  If you think about different periods of your life, I hope you'll see there's been someone who brings the aroma of Christ. In 2 Corinthians 2:15 it says:

For we are to God the pleasing aroma of Christ among those who are being saved and those who are perishing.

Maybe you are one of those people who brings such a presence of Jesus in all situations. Some people, just by their smile or their laugh, show us more of Jesus. He reveals himself through them and in wanting to become more Christ-like, they are people we grow to value and trust. They are the people we look-up to.

Does anyone spring to mind for you?  She might have been a teacher, a youth leader, a friend, a babysitter or a family member.  The role doesn't matter, what matters is that you emulate her in some way.  We'd love to include a short write-up about who made you want to 'take a leaf out' of her book. Send your 500-word stories to us: info@activateyourlife.org.uk
STORY 1
I took a leaf out of an older girl's book when I could see she had a personal faith, not a family one…
Having grown up going to Church and taken God and Christian life for granted, I remember wondering which aspects of the life I knew would be different if I had been born into a family with an alternative belief system.  I remember worrying about this, particularly as I liked to comply and please my parents.  What would I have done if I'd had to make a stand for a different faith?  I wouldn't have wanted to rock the boat.  Thankfully, God seemed a good option and I had no real problems with the situation in which I found myself so I continued coasting along.
When I was 8 or 9 we changed churches.  On our first week there, I was asked to join The Girls' Brigade.  This was something I did not see as a great option.  I used Brownies as my excuse.  Surely I couldn't be expected to go to both?  As the months went on, I became too old for Brownies and Guides was way too scary as you had to learn to shave your legs with a swiss army knife (apparently).
So my sister and I donned the blazer, white gloves and flight-attendant style hat and never told any of our friends of the strange society we scurried off to on a Monday night.  I was doing this to keep the peace – all the girls at the Baptist church went along.
As I moved from being a Junior to a Senior, I mixed with girls who were much older than me (like three whole years older!). There weren't many of us, but one girl seems much cooler and more beautiful.  She seemed to just come along because she wanted to.  She wanted to!  By this point, I was found of Girls' Brigade, and the leaders were such kind-hearted older ladies who taught us all sorts of life skills.  However, I'm not sure I would have just gone along if I hadn't been part of the Church.  One girl stood out to me. She was serene, calm, beautiful, caring, and she prayed and read her bible. She didn't go to church and I'm not sure how she got involved but there was something genuine about her that I didn't see in the other church girls. She was choosing her faith, she was living it for herself.  She didn't have a Sunday School attendance award bible that she used just to collect stickers in, she had a bible so she could read it.  She wasn't a geek and she wasn't part of a clique.  She was just lovely and kind-hearted.
From this girl, I learned how attractive it was to be my own person.  My eyes were opened to the fact that, all around me, people had made their own choices to follow Jesus and learn about God. There really must be something to this Christian faith, I realised.  I started to see that it could be 'Jesus and me' not just 'Jesus and us'.  If she liked Girls' Brigade, with its old choruses, action songs, prayers and Bible readings, then maybe I should stop taking it for granted and like it too.
I stayed on at Girls' Brigade for a long time and learned a lot about serving others.  I learned that pumping up camp beds until 1.30am was exhausting, but the giggly post-foot-pumping midnight feasts were hilarious.  Other activities at Camp were just as memorable, but for the wrong reasons.  I didn't, thankfully take a leaf out of all the girl's books (I decided very quickly not to pierce my own ears with a needle from our travel sewing kit and a frozen broad bean).  Maybe I would have stayed with it for all those years if it hadn't been for that role-model, or maybe I wouldn't.  What I do know is that I needed to learn some lessons from this girl.  Whatever she's up to now, I hope she is still spreading the aroma of Jesus and inspiring others to develop a personal faith in Him.