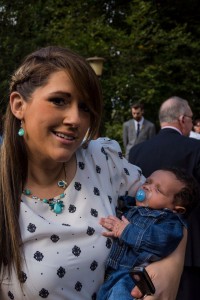 Having a 20 month-old son and a newborn baby boy has changed my life in the most incredible way.  I recently had a revelation that I had never thought of in this way before.
Have you ever said this phrase, "I just want some peace and quiet!"? For years I have said it – when life gets busy, stressful, hectic or I don't know whether I am coming or going – I would say,"I just need some peace and quiet".  I don't think I ever meant I wanted to sit in a room in silence. (That is not my idea of peace and quiet – I would hate that!)  I think I was implying that I wanted the things that caused me to be busy, worried or stressed, things that caused 'noise' in my world to just give me a break so I had some space to think freely. Have you ever felt like that?
When my second little boy was born just a couple of months ago, life became more hectic than before.  I now had two children that cried and needed my attention, and when they were both asleep (this was rare) I found myself saying, "Finally! Some peace and quiet."
One evening as I said that phrase, my husband challenged what I had said.  He asked what I meant by 'peace'.
I did think it was quite an odd question, as I thought it was fairly self-explanatory!  Then, as we began to talk about the phrase 'peace and quiet', I felt incredibly challenged and started to ask myself, "do I not have peace when my babies are awake? Is it something I can only recognise when they are asleep?"
My mind was blown at this concept, as our children are an incredible gift to us.  Of course my peace is not lost when they are awake, in fact my peace becomes more tangible when they are awake.  I have real peace when I am cuddling my newborn baby or reading a book and counting to 10 with my toddler.
From that moment on, I started to look into what the Bible said about peace.  Everywhere I turned I found scriptures talking about peace.
Be anxious for nothing, but in everything by prayer and supplication, with thanksgiving, let your requests be made known to God; and the peace of God, which surpasses all understanding, will guard your hearts and minds through Christ Jesus. (Philippians 4:6 – 7)
Whatever is causing you to be anxious today, talk to God about it and give him thanks for the good things in your world.  In return he will give you such an incredible peace that your brain won't be able to understand it considering the circumstance.
You will keep him in perfect peace,
Whose mind is stayed on You,
Because he trusts in You. (Isaiah 26:3)
Take every thought captive today, choose to keep your mind focused on God, and he will keep you in perfect peace!
Peace I leave with you, My peace I give to you; not as the world gives do I give to you. Let not your heart be troubled, neither let it be afraid.  (John 14:27)
Nothing you can do or own can give you the same peace as God can give us!
As you can see from the three Bible verses I have quoted, the peace the Bible is talking about does not come and go depending on our circumstances, however bad they become.  Peace is not dependent on our feelings or emotions. Peace isn't even necessarily present when everything is going great in our lives and everything is perfect. I know of people who look to the outside world as if they have everything they could ever need – yet they have no peace in their heart!
Whatever stage of life you are in right now – you may be a student, a parent, a successful business owner, a grandparent, employed, unemployed or retired – we all have a need to have peace that is not given to us through our bank balance, relationship status or career, but a peace given to us by God!
Here is just one of God's promises you can reflect on as you face your day… whatever it may look like.
The Lord will give strength to His people;
The Lord will bless His people with peace. (Psalm 29:11)
My prayer today is that you will truly experience The peace of God and strength of God that transcends all human understanding.
And I can assure you that now, when my babies are both asleep, I always say…"Some quiet at last!" Because I always have peace!