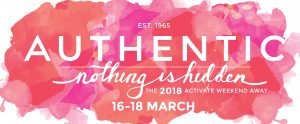 For more delegate information click here
FRIDAY 16th MARCH
From 3pm Rooms available
5-5.30pm Miss Activates meet up
5-5.30pm Meet the chef (for those with dietary requirements)
5-5.30pm  Meet up with others at the bar – come along if you're new this year, or if you'd like to meet new people
5.30-7.30pm EVENING MEAL
8.00-9.15pm SESSION 1 –  Sarah Jones
Late night: PJs and Popcorn (movie night)
SATURDAY 17th MARCH
7.00-9.00am BREAKFAST
7.30-8.30am Fitness – Rachel Morris
8.00-8.30am Devotions – Fiona Castle
9.15-10.45am SESSION 2 – Sheila Bridge
10.45-11.00am Coffee and cookies
11.00-11.50am Seminar A – Options:
i) Gatherers – Mandy Catto
ii) Authentic in the Workplace – Emma Talbot
iii) Balancing Grace and Truth –  Hannah Shepherd
12.00-12.50am  Seminar B – Options:
i) Authentic Online – Becky Robinson
ii) Managing Your Mind – Sheila Bridge
iii) Sharper Than a Two-Edged Sword – Helen Cooke
12.45-2.30pm LUNCH
1.30-2.45pm Unlocking Your Vision slots (book at Info Point) – Rhiannon Goulding and Sarah McKerney
2-2.45pm Immerse (unstructured worship) – Hannah Shepherd
3.00-3.50pm Seminar C – Options:
i) Authentic Friendship – Fiona Castle
ii) Speak It Out – Pete Goulding
iii) Intimacy in Marriage – Lyndsey Holmes
4.00-5.00pm SESSION 3 – Pete Goulding
6.00-8.00pm DRESS UP AND DINE
6.00pm Champagne Reception (For regular givers and group coordinators)
From 6.30pm Something Sweet (Bite-size desserts)
8.30pm A Bit of R and R (chat show fun!)
Late night Disco
SUNDAY 18th MARCH
7.00-9.00am BREAKFAST
7.30-8.30am Fitness (Rachel Morris)
8-8.30am Devotions (Diane Mayers)
8.45-10.45am Easy Like Sunday Morning (crafts and activities)
9.00-10.30am Deeper – mini-talks (feel free to dip in and out):
9.00-9.15am 10ofthose book recommendations
9.20-9.35am Hopebags – Megan Holmes
9.40-10.00am Why am I a Christian? How to tell people your story – Meka Goulding
10.00-10.20am Look Chic – Nicky Jones
10.45am Coffee and cookies
11.15-12.45 SESSION 4 – Sarah McKerney 
12.45-2.30pm LUNCH
2.30pm Farewell
Notes for delegates
The weekend away is to be held at Horwood Estate https://www.phcompany.com/de-vere/horwood-estate/
Miss Activate sessions vary from the programme slightly – see printed programme on arrival
Programme may change; you will be given a copy when you arrive.
Fitness session is run by a qualified instructor.
If you have any questions, email rachel@activateyourlife.org.uk
Wifi code will be given to you on arrival.
Pool and sauna available at the hotel.
Day delegate lounge available
Attendees will have received an e-newsletter with more information about the weekend away.  If you did not receive this, please check with whoever booked your place (if you're sharing a twin room, the email will have been sent to whoever made the booking).