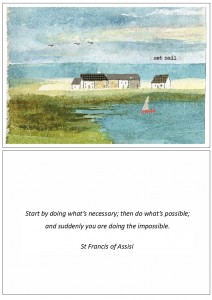 Now that the postage is so much to send a letter or a card, I have decided that I need to get my money's worth out of that 54p stamp. 'To ____________, Happy Christmas, Love ______________' is just not value for money! So at Christmas, I added a very short letter in with the Christmas cards I posted out. I have to admit, I didn't get round to posting cards through the neighbours' doors.
Although Christmas cards seem to have lost their value somewhat; at other times, it means so much to get a handwritten greetings card, especially when there are a couple of lines of encouragement or heartfelt feeling included inside.
It is so much easier to write a heartfelt birthday message, either on Facebook or in a card, when the person you are writing about just oozes wonderfulness! You find yourself writing on both sides of the open card and even having to go onto to the back in order to tell him or her how much you love and admire them. I think it is these types of people that Paul writes about in his second letter to the Christians in Corinth:
Your very lives are a letter that anyone can read by just looking at you. Christ himself wrote it—not with ink, but with God's living Spirit; not chiseled into stone, but carved into human lives—and we publish it.
2 Corinthians 3:2-3 (MSG)
There are times when words don't flow as readily but we know we are being prompted to connect and reach out. One resource has been developed with this problem in mind. Read on to find out more from Laurence Singlehurst, one of our keynote speakers from Inside Out 2015 – our last weekend away:
Laurence writes:
Last year my daughter and I had a wonderful opportunity to speak at your conference about contemporary mission and how we can reach out to our friends about our faith in a way that makes sense and leaves them positive and encouraged. As part of that we looked at:
Things to say
Things to give people
How we can invite them to events
Addressing the second of these points, myself and others at Cell UK have been looking at what we could give people that has Christian content but is appropriate, so we have produced ten attractive cards called Moments in Life. Designed by a textile artist, Kate Buchanan, each card has not only a beautiful picture but inside there is a spiritual thought. These cards are related to the moments in life we go through. For example, one card relates to bereavement and loss, another for birthdays and celebrations, others to say thank you, a new home etc.
So for example, when my neighbour was sick I could have taken the appropriate card, with my own message written inside – hope you are feeling better – and she will also see the spiritual thought that relates to that moment. This is just one way of building our relationships.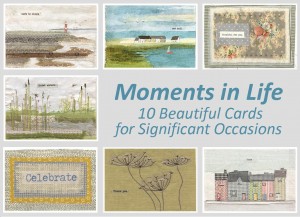 Available at a set of 10 different cards presented in an attractive tin to keep them safe, for only £21.50 including the tin and p&p. Available from the Cell UK website at www.celluk.org.uk, to place your order or see more information.
I will be bringing these cards plus other resources from Cell UK to your conference, do come and browse and say hello.
Laurence Singlehurst