"Always" is our exciting new conference for March next year. With an outstanding line up of speakers and a special guest appearance from vocalist Phillip Hanna, it will be an event not to be missed.
To help get the word out we have provided you with a full media pack including a poster to be placed up in your church, coffee bar or bookshop, a short introductory video and some smaller hand-out cards for your friends.
We hope you will join us next March for what is guaranteed to be an exciting and challenging few days….see you there!
Media Pack
Feel free to print this poster off to advertise the weekend away
Use it in your church, coffee bar or bookshop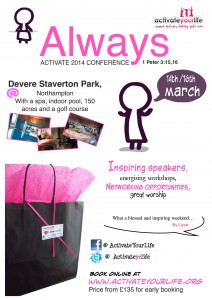 This introductory Dvd  can be used in your small group or to assist your notices in your main church services. It's a creative means to invite friends to engage with the conference
We also have several smaller postcards ideal to be used in giving out to friends and neighbours…
If you would like the postcards simply contact Activate on Facebook or twitter. Or alternatively you can email us with the amount you would like, and we will send them out to you.
Thank you for partnering with us!