Activate Your Life at Big Church Day Out North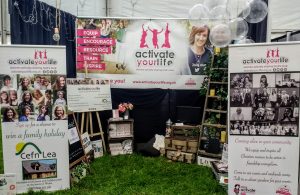 We are here!  Please come and visit our stand in the Bazaar.

Win a holiday for up to 15 people at Cefn Lea Christian Conference and Holiday Park* when you sign up to receive our e-newsletter!

Grab a free beach ball at the photo booth when you #aylbigchurch.

Beat the best on our key game at our Unlocking The Door area.
Activate Your Life exists to equip women in friendship evangelism and inspire them to come alive in their communities. We are so excited to have the opportunity to share what we're all about with tens of thousands of Christians from across the UK.
Thank you to Cefn Lea and our supporters for making it possible for us to exhibit at BCDO for the first time.  If you would like to support our work or help with the cost of our stand, please click here.
Get involved by joining our community @activateyourlife1 and coming to AUTHENTIC, our Activate weekend away, 16-18 March 2018.
Catch up on some inspiring, informative, and reassuring reading by checking out our latest articles.
Finally, get in touch! We'd love to visit you and your church, friends, and community and are happy to provide a speaker.
Cefn Lea Holiday Prize Draw

The prize is: Mid-week or weekend family holiday in a 3 bedroom luxury chalet self-catering, maximum number of beds in the chalet is 15, brochure price £1200. Dates subject to availability.

Terms and Conditions

The prize draw (the "Prize Draw") is open to people aged 18 and over who provide their email address.
Employees of Activate Your Life or Cefn Lea or their family members, or anyone else connected with the Prize Draw may not enter the Prize Draw.
Entrants into the Prize Draw shall be deemed to have accepted these Terms and Conditions.
By submitting your personal information you agree to receive emails from Activate Your Life on a monthly basis. You will also receive occasional emails from Cefn Lea. You have the option to unsubscribe in each email.
No purchase is necessary.
Only one entry per person. Entries on behalf of another person will not be accepted.
Activate Your Life and Cefn Lea accepts no responsibility is taken for entries that are lost, delayed, misdirected or incomplete or cannot be delivered or entered for any technical or other reason. Proof of delivery of the entry is not proof of receipt by Activate Your Life.
The closing date of the Prize Draw is 23:59 on 30th November 2017.  Entries received outside this time period will not be considered.
One winner will be chosen from a random draw of entries received in accordance with these Terms and Conditions. The draw will take place on 1st December 2017.
 Activate Your Life and Cefn Lea accepts no responsibility for any costs associated with the prize and not specifically included in the prize (including, without limitation, travel to and from Cefn Lea).
The winner will be notified by email on or before 2nd December 2017.  If a winner does not respond to Activate Your Life within 14 days of being notified by Activate Your Life, then the winner's prize will be forfeited and Activate Your Life  shall be entitled to select another winner in accordance with the process described above (and that winner will have to respond to notification of their win within 14 days or else they will also forfeit their prize).  If a winner rejects their prize the winner's prize will be forfeited and Activate Your Life shall be entitled to select another winner.
The date of the prize holiday is to be chosen at a time suitable to the winner and Cefn Lea.
The prize is non-exchangeable, non-transferable, and is not redeemable for cash or other prizes.
Activate Your Life retains the right to withdraw the prize offer at any time.
The winner may be required to take part in promotional activity related to the Prize Draw and the winner shall participate in such activity on Activate's reasonable request.
Activate Your Life shall use and take care of any personal information you supply to it in accordance with data protection legislation.  By entering the Prize Draw, you agree to the collection, retention, usage and distribution of your personal information in order to process and contact you about your Prize Draw entry.
Activate and Cefn Lea accepts no responsibility for any damage, loss, liabilities, injury or disappointment incurred or suffered by you as a result of entering the Prize Draw or accepting the prize. Activate further disclaims liability for any injury or damage to your or any other person's computer relating to or resulting from participation in or downloading any materials in connection with the Prize Draw. Nothing in these Terms and Conditions shall exclude the liability of Activate or Cefn Lea for death, personal injury, fraud or fraudulent misrepresentation as a result of its negligence.
Activate Your Life reserves the right at any time and from time to time to modify or discontinue, temporarily or permanently, this Prize Draw with or without prior notice due to reasons outside its control.
Activate and Cefn Lea shall not be liable for any failure to comply with its obligations where the failure is caused by something outside its reasonable control. Such circumstances shall include, but not be limited to, weather conditions, fire, flood, hurricane, strike, industrial dispute, war, hostilities, political unrest, riots, civil commotion, inevitable accidents, supervening legislation or any other circumstances amounting to force majeure.
The Prize Draw will be governed by English law and entrants to the Prize Draw submit to the exclusive jurisdiction of the English courts.
Promoter: Activate Your Life, P.O. Box 1217, Preston, PR2 0HT