Who would come along to an outreach event that wasn't church, but did talk about faith?  We were anxious that we would have an empty room, with no one interested.  And we were worried that we would be swamped with Christians who were fed up with their local churches and would come along, then want us to quickly change into something more similar to church.
We hoped that folk would come who would not normally think of a traditional church.  We dreamt that some of the keen skaters would leave their ramps for an hour and come up to join us.  We wanted to appeal to a whole cross section of ages and backgrounds. We desperately wanted people to come and explore faith and get to know Jesus.
So the first week when we opened the doors, we wondered who would walk in!  There were about 60 to 70 folk there each week for the first three months.  A good chunk of them were from the original praying team and their families, all of whom were involved in some kind of serving ,ministering or volunteering. Some of them were interested local Christians who had heard about us, in a positive or negative way, and wanted to see what it was all about.  Often , they came once, said how supportive they were and that they would pray for us, then they left.  Interestingly, there were about ten percent each week of people who used to go to church and had given up years before.  They were willing to come and try us out and they stayed!
It took three weeks for the first skaters to decide to venture up the stairs and stay in the cafe while our event was on.  Sometimes they would stay and engage, sometimes they left loudly half way through, banging the doors on the way out, but we were always delighted to see them, even if just for a few minutes.
And there were some folk who came who were non-churched, who had no experience of ever entering or being part of a church and yet were willing to come, stay and listen.
Each week we tried hard to create a magazine programme that was engaging, interesting, with contemporary music and dealt with important issues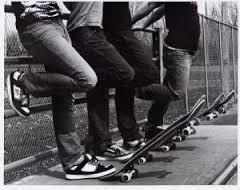 .  Nothing that was formal or asked anyone to speak out, stand up or even join. And every week we talked about Jesus, His love and His grace.
We prayed that we would see ten to twenty percent each week who didn't yet know Jesus.  And that they would love it so much, they would come back and invite their friends. And sometimes, that is exactly what happened!