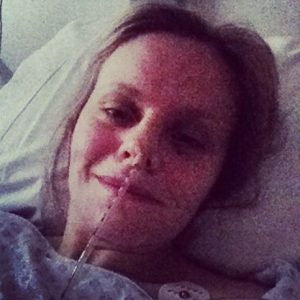 IF someone would have told me this time last year that I would, in the course of a year, visit two African countries, move house, move cities, resign as a pastor, take on new roles in church, move into a 'do-er-upper', receive the news of my granny's terminal illness and get a new job, I probably wouldn't have believed them.
But I certainly wouldn't have believed anyone if they could have foretold, that as well as all of the above, I would also be juggling with the daily pressures of being a wife, mum and employee while embarking on around four months of illness.
In late May this year I started feeling the familiar pain in my abdomen that comes with years of recurring 'adhesion problems.' These almost undetectable internal scars have plagued me on and off for a while. When things are good, a couple of painkillers does the trick, and when things are not so great it often ends up with surgery. This time, however, it was different.
After a week in hospital it was decided that my appendix would have to be taken out, as it had become stuck – by adhesions – to everything next to it. The simple key-hole procedure would be done and I would be allowed home the next day. All went according to plan. Except one day after getting home, after a call to the doctor who promptly rang for an ambulance, it was clear everything wasn't okay.
To cut quite a long story short, six days and yet another CT scan later it was discovered that I had a life-threatening bowel obstruction and had to be taken back to theatre, this time as an emergency.
Thankfully, this time, all did go well. And within days of the operation I was able to eat again and even made it to Scotland , after 16 days in hospital, in time for my granny's 90th birthday.
What I wasn't prepared for, at all, was the months to follow. Excuse the gore, but it was a grizzly few months. My bowel, the temperamental diva that she is, completely went on strike. Paralysed. Now, for a girl who can't even bring herself to laugh at jokes involving toilet humour, this is as bad as it gets. At its worst it meant being attached to a portable drip device at home, pumping me full of anti-sickness drugs, in order to keep me out of hospital, and at best, with the aid of dozens of tablets and foul tasting drinks, I could just about managed to walk up the stairs without needing a sleep.
Friends, I have to tell you, I have never known a season like this before. From being independent and assertive, driven even, to completely reliant on other people is a task in itself, but when your children cry because 'they want a normal mummy' it breaks your heart. Now, please don't misunderstand me. I know I don't have anything serious going on. If the last few days are anything to go by then I don't even have a 'long-term condition' because I really think I am now on the mend. I do however, now know first hand, what it's like to be forced to rest and watch normality fly out the window. You know that bit in the 23rd Psalm… 'He makes me lie down in green pastures'? Well that was me. Not by choice, but by some kind of force outwith my control, I was made to rest.
But here's the thing. I don't know of another season in my life where I have seen God move more. Neither, have I known a time in my life when I have experienced more peace, or when more people have claimed to be inspired by my faith.
In 2 Cor 4:7 it says: "But we have this treasure in jars of clay to show that this power is from God and not from us."
I don't think I had really realised what this was about until this time of illness, then all of a sudden my life was cracked open and exposed to everyone around me. My precious clay facade was smashed – and whatever was inside was destined to come spilling out. But instead of a mess, and all the tears I had been crying, and all the depressive thoughts and whinging coming pouring out, there was love and joy and peace instead.
It seemed that unless I was truly broken, the treasure had no way to be seen.
I can't express it better except to say, 'God is in the cracks'.
My overwhelming feelings of inadequacy, across every area of my life whether it be my parenting or my professional life, brought on by the weakness of illness, were overtaken on all occasions by miracle upon miracle.
When I couldn't cook, meals were made for me.
When I was sad, flowers arrived at my door.
When I couldn't walk to school my neighbours rallied round and picked up, fed and looked after my children.
And in it all I was constantly provided with opportunities to both see God in it, and lean on Him through it. I had more times, in the last few months, to talk to people about my faith than I have ever had before. When, in the last week, I was prayed for and felt a difference, the first person I told was my doctor.
When I asked the question, God, how can you use me, weak and cracked and exposed to everyone?. I didn't even need to wait for an answer, it was so clear. God was in the cracks.
The words of 2 Corinthians 12:9-10 ring in my ears at the moment. "My grace is sufficient for you, for my power is made perfect in weakness. Therefore, I will boast all the more gladly about my weakness, so that Christ's power may rest on me. That is why, for Christ's sake, I delight in weakness, in insults and hardships, in persecutions, in difficulties, for when I am weak, then I am STRONG."
You know, if I have learned one thing, it's that every season of life brings challenges. But God proves himself faithful and because He has commissioned us to be his 'good news' bringers to a world in desperate need of hope, love, light and any news other than even more bad stuff, nothing is wasted.
No period of pain, no time of grief, no walk in isolation, no depression or mental illness, no cancer or disease, no divorce, relationship break down, no hurt or anxiety… nothing is wasted. Instead, when we least expect it we realise our weary arms have not dropped, but they are being lifted, our broken spirits are being restored, our heavy burdens have been taken from us and surely, surely as God himself is true, we not only have a testimony of His comfort, and peace and provision, but we have a new confidence in our season.
Even just a week ago I was willing to write off almost four months as being a big, horrible, waste of time… and then a letter dropped through my letterbox. It was from the tenants of a house we own, which we rent out. The lovely couple had fallen into financial difficulty due to illness. I almost cried as I read the words because they felt so familiar and frail. So instead of me focusing on myself I had the opportunity to step in, demonstrate God's love and help someone else. I don't tell you this to boast in any way, just to explain how my situation allowed me to feel compassion for someone else in the same boat. The plan, then, was to deliver shopping to our tenants, to help them out during a tough time, as so many others had done for me, despite them not paying their rent.
"Why have you done this?" they asked.
"Well, we would be pretty rubbish Christians if we didn't, wouldn't we?" I said.
See, God is in the cracks.