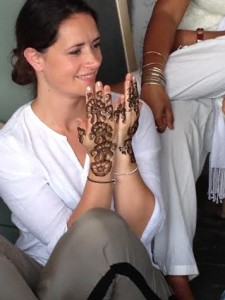 We are pleased to introduce to you, this week's guest writer, Dee Cook. Pictured during a recent trip to Mumbai, Dee is married to Jon and the couple are the senior pastors of multi-campus church, Newcastle Christian Life Centre. She is mum to Thea, Imani and Judah, and thanks to growing congregations in the north-east of England and in Tanzania, spiritual mama to many, many more.
I sit in my hallway with the contents of my under-the-stairs cupboard spilling onto the floor, while I sort out an ever-increasing pile of shoes, coats, hats, scarves and bags and goodness knows what else.
I measure snow suits up against my four-year-old chicken pox-covered son and I get thinking. Thinking about the passage of time.
How many times have I grabbed a coat, shoved it on my kids and hurried them out of the door in an angry whirlwind, not wanting them to be late again for school? I've rushed them as they finished their breakfast, brushed their teeth, oh wait, has my nine-year-old remembered to find that missing shoe? She's always losing her shoe!
So in the quiet of the pile of mess on my hallway floor I'm marvelling at how fast time flies. It seems to go as quick as my morning rush. How quickly small kids become big ones and how many times I've cleared out that cluttered cupboard.
In my times of 'reflection' (okay, honesty here – I'm a complete and utter daydreamer!) I get thinking. Always thinking.
Last week I had been with another group of kids.  Kids very much like my own but in a different society. A society full of colour, vibrant life, contrasting smells, flavours and extreme heat.  The massive contrasts and contradictions that makes up Mumbai, India.
My husband Jon and I were visiting an organisation we know and partner with, which works with children and families in the slums of Mumbai. You might have seen some of the very streets we walked along in the film Slum Dog Millionaire.
The charity, Vision Rescue, was started 10 years ago by a man who saw multiple thousands of children living on the streets of the huge city with no hope of education or safe care. He felt God challenge him to bring hope and restoration to these kids. Ten years later Biju Thampy and his family lead a thriving and inspiring organisation now bringing education, food and most importantly hope in Jesus to some of the most forgotten and untouchable people of India.
As I sit amongst my pile of coats and hats I can't help but notice the extremes in my henna-decorated hands. This time last week a stunning sari-dressed teenage girl was sitting decorating my hands in the Vision Rescue community centre next to one of the biggest rubbish dumps in India, where she daily attends to learn dress making and home skills. She sat so quietly while she decorated my hands, carefully concentrating on every small detail. She could be a girl like any other teenage girl in my home country, but as I looked at her beautiful sun kissed face I wondered what worries lay behind those deep beautiful eyes. Does she have parents who rush her out of the house in the mornings in case she's late for her day's activities? Does she have an overflowing cupboard of too-small outgrown saris? Does she lose a shoe when she's late for the community centre? Hang on, does she have a home at all? Parents? Anyone who takes care of her?
My head starts spinning and I realise there are such issues surrounding us, and we live with them constantly, so much so that we often don't even realise. Some things are so alien from our way of life especially when we get caught up in a frenzy of rush and hurry.
No doubt at all there's urgency to life in Mumbai. It's a huge city full of city-hustle and bustle. No city I've been to sounds quite like Mumbai. The constant honking of car, taxi, lorry horns, the street sellers demanding attention to sell their wares, it's a noisy, full life.
The extremes that catch my attention though are somewhat deeper than the rush of city life.
In all the growing and rushing my kids have had several meals each day. They have a mountain of clothes, they go to school each day and access to doctors, dentist and opticians when they've needed them.  Many of the kids I was with last week would dream of such luxuries.
Many years ago the knowledge of that contrast upset me beyond words. My first experience of a developing country seven years ago left me with an angry culture shock when I returned home. I felt guilty. Wasteful. It took months for me to understand that instead of guilt I should be thanking God. Thanking Him that He could use me to help. Out of the overflow of a blessed life can come blessing for others.
My overflow flows over. It helps put skin on the Jesus that people are meeting when I sit with them. A life outpoured is one that brings the answer to people.
In my determination to clear out my overflowing coat cupboard I renew my resolve. The promise I made that I would do whatever I can, whenever I can, as often as I can to find the unloved and love them. At home, at work, at play, at rush or rest, on the school yard, in the supermarket, in the office, in Africa, in India, whenever, whenever. Just because I can and I should. Because Jesus did.
That's all.