We are delighted to introduce Pastor Jon Cook of Newcastle Christian Life Centre, this week's guest writer.
Jon is dad to Thea, Imani and Judah and is married to Dee, and together the couple lead NCLC, a growing multi-campus church, part of the Hillsong Family of churches, in the north-east of England, with a global campus in Tanzania.
A social worker by profession, Jon has a gift for communicating leadership principles but is also a passionate preacher with a heart to see every man, woman and child reunited with Jesus and planted in the local church.
He is also officially a 'Tough Mudder' having completed the gruelling assault course to raise funds and awareness for the A21 Campaign, and when he's not busy with all of that he loves to snowboard, ride his motorbike and spend time with his family.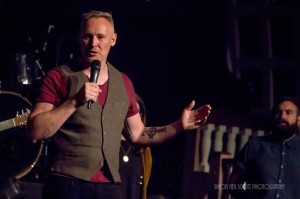 Let me start by saying I am not what you would call an evangelist.
You know those people that sit next to someone on a train and by the end of the journey they have the entire carriage praying the sinner's prayer? That's not me. I am more the put my headphones in and read a book type.
I can't walk in Starbucks and chat with someone, give them a scripture that causes them to ponder the very meaning of life, then they end up in church on Sunday. When I preach people do regularly get saved but I also have friends like Christine Caine who can talk about the inside of a ping pong ball and people are running down to the front of church desperate to meet Jesus.
So if that's not me, how did I end end being the pastor of a church where people become followers of Jesus every week?
Well, its obviously not about my skill or gifting. What it's about is making a decision that our church will have a vision to fulfil what Jesus said when he told His followers to go into their world and make disciples. We have a filter for everything we do in and through our church which is, Will it make and grow healthy disciples? So whatever the program, department or event that we undertake, it has to fulfil this.
Discipleship is not a short term event it is a long term process. We are called to be a faithful presence in our communities showing people Jesus and seeing lives transformed. I think we often view evangelism like guerrilla warfare; rush in, throw some Bible quotes maybe even do some kind acts then retreat back to the safety of our lives and church. And evangelists are those special SAS type Christian soldiers – they have a special set of skills.
The truth is, in fact, all of us and our whole life is called to be a witness to the work of Christ in us. How can people hear and see the message of our lives if evangelism is reduced to one or two specialists standing and shouting on street corners?
Sometimes the hardest people to invite to church or to have a conversation about Jesus with are those that know us the best. But we are all missionaries. We are missionaries in our families, in our workplaces, and in our schools and universities.
Occasionally we have the opportunity to be missionaries to people who we happen to meet for the first time, but mostly it is to those that we see everyday. Most people come to Christ after seeing the process of Him working in a friend or family member's life over a period of time.
Commit to being a faithful presence not a drive-by evangelist.