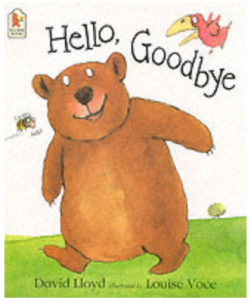 We used to read this storybook quite regularly when the children were little.  It involved just a bear, a bird and some worms saying "hello" until the rain started and then they said "goodbye".  For those of us who tend towards being a little introverted, we sometimes wish all social events went a bit like that!  I did find there was something profound about Hello, Goodbye, I just couldn't put my finger on exactly what that was. I've come to realise that these words go together really well, despite meaning opposite things.  At the exact moment we say 'goodbye' to something, the best possible scenario is for us to say 'hello' to something else.  For example, last month I texted my friend on the day her youngest started school, to ask if she was OK. She replied, "Yes, I'm not trying to see it as the end of something, but the start of something new."
When Lorraine and Ali Patience decided they would say "yes" to God if he called them to become missionaries, they said "hello' to lots of smaller opportunities to serve and prepare for this.  This meant that when they were ready to say 'goodbye' to one season, they were prepared, experienced, and ready to say a big 'HELLO' to a whole new adventure. Read their story here: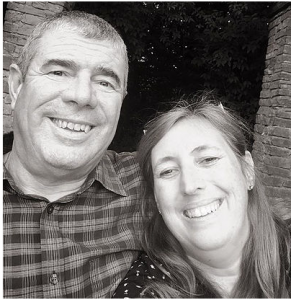 ALWAYS Saying YES to God
Lorraine Patience
It all started over 17 years ago when Ali (my husband) and I returned from an Alpha evening we were helping with in our local church. We stood at the kitchen sink talking and I said to Ali, "What would we do if God called us to be missionaries?" After a little deliberation between us we decided that we would have to always say "YES" to God. Not long after that, in April 2000, we went together on our first trip to Brasov in Romania working with street kids and gypsy communities. That was the beginning of a journey of adventure in missions that continues today.
We had a real desire to serve full time overseas but our children were very young and as we prayed about it we felt the Lord saying that He gave us our family before He called us to work overseas and so we should focus on raising our children first and once they were all independent then we would go longer term.  In the meantime, we were to spend time preparing and serving in whichever areas He opened up to us.
Isaiah 61:1-3
The Spirit of the Sovereign Lord is on me, because the Lord has anointed me to proclaim good news to the poor. He has sent me to bind up the broken hearted, to proclaim freedom for the captives and release from darkness for the prisoners, to proclaim the year of the Lord's favour and the day of vengeance of our God, to comfort all who mourn, and provide for those who grieve in Zion to bestow on them a crown of beauty instead of ashes, the oil of joy instead of mourning, and a garment of praise instead of a spirit of despair. They will be called oaks of righteousness, a planting of the Lord for the display of his splendour.
So over the past 17 years that is what we have done, we worked with a number of small mission organisations, firstly in Romania and Zambia then in 2008 I set up a charity with a friend of mine working with women in Uganda.  In 2009 Ali and I started working with an organisation in Sierra Leone. In September 2015 we went to Sierra Leone on our first long term mission after our youngest son started university, we finished there in May of this year returning back to the UK after 18 months as our time with that organisation came to an end.
That nearly brings us up to date. In February of this year we became directors of an organisation called Watchmen International who work in 9 African countries, mainly East Africa and we will be travelling and working with them for the foreseeable future in whichever capacity the Lord leads.
Micah 6:8
He has shown you, O mortal, what is good. And what does the Lord require of you? To act justly and to love mercy and to walk humbly with your God.
While in Sierra Leone we built some really special relationships with a few local Christians and Church Leaders, we really felt that we wanted to leave something of us in this place we had grown to love and we wanted to help and encourage our friends, so we spent some time praying and asking God what it was He wanted us to do and The Lord gave us a vision.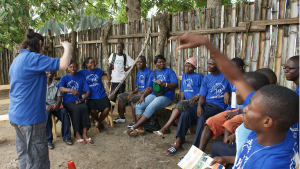 We really believe that Jesus is going to return very soon and the Bible tells us to watch and calls us to be ready but if people don't even know Him how can they be ready?  So as a result of the Lords leading we have set up a small organisation called Maranatha Christian Outreach Ministries. Maranatha means 'Come Lord Jesus' and so if we can enable local Christians to evangelise small rural villages and communities and tell those that don't know about Jesus the truth of who He is and what it means to follow Him then we are doing our bit to pave the way for Jesus return and helping people to get ready.
Mark 13:35-37
"Therefore keep watch because you do not know when the owner of the house will come back—whether in the evening, or at midnight, or when the rooster crows, or at dawn.  If he comes suddenly do not let him find you sleeping. What I say to you, I say to everyone: 'Watch!'"

Matthew 24:44
So you also must be ready, because the Son of Man will come at an hour when you do not expect him.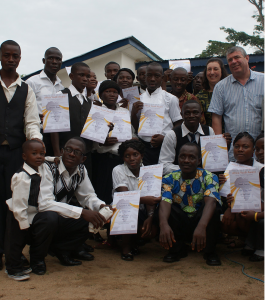 "HELLO!"
In our next article, you'll be able to hear more from Lorraine and read more about Maranatha Christian Outreach Ministries.  But in the meantime, how does that last verse about Jesus' return (Matthew 24:44) prompt you to say "hello, goodbye"?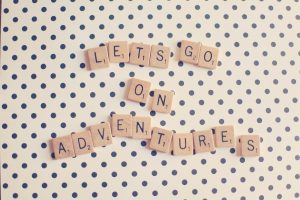 Maybe you're in a season of "goodbyes"?  Look back over your life and see the series of "hellos" that might be signalling you to shout a big, fresh "HELLO" to something.  It may seem daunting, but if you join up the dots, you'll see He has been preparing you for the adventure throughout your life.  If you can't see many dots to join, start saying "hello" to little opportunities to serve and, like Lorraine and Ali, watch and wait for the time to go for it!