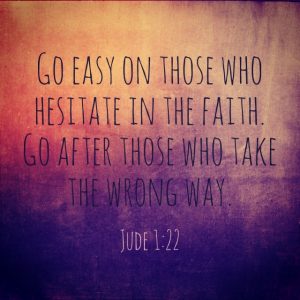 Hello ladies… can you believe we are almost at the end of our look into Jude? Here is the next instalment:
"Go easy on those who hesitate in the faith. Go after those who take the wrong way."
I love the gentleness but also the concern expressed here.
When I was about 19 I was part of a travelling gospel play that happened in churches across the nation. Out of respect for the people whose ministry it was I won't mention the name but the basic premise of the production was to make people think through what would happen if their lives were suddenly to come to an end. Would they go to heaven or hell. Coming from a non-Christian family I invited my aunty – and other relatives – to be there. The end result was not what I had intended. Instead of being drawn to God they left angry and terrified by the cruelty of such a prospect and even displayed concern that their normally caring niece would find this an appropriate way to share her faith. Truthfully, their reaction was completely understandable and actually expected.
Why? Because according to the Bible (Romans 2:4) – it is the GOODNESS of God that draws people to repentance! And with that in mind I love the approach taken by Jude… 'go easy'. So often, because we are desperate for our loved ones to be saved, we can 'go hard' and our well intentioned passion can push people further away. Imagine if we took a different approach and used that zeal, passion and fervour to harness creativity, finding new ways to reach out? Imagine if the way that we became relentless in presenting the gospel is to daily ask God to help us become more like his Son?
Jude isn't telling us to give up, no, it's quite the opposite but he is encouraging us to be understanding of others and their cautious approach.
I've learned – especially in these Easter holidays – that shouting doesn't get me very far, if anywhere at all. But a hug and a gentle nudge seems to have a far better result. I know in my own personal faith journey, after a time away from God as a young adult, no amount of condemning or shouting about sin from the pastor would pull me back in. It was the love and encouragement from faithful and faith-filled friends that made a way for me to not only come back to church, but also back to Jesus.
Jude does tell us though, to make sure we are intent on pursuing those who are going the wrong way. He doesn't instruct us to shout at them, or present an essay on apologetics demonstrating why the faith they are walking away from is actually sure and trustworthy. No, what he suggests is that when our friends, family, loved ones, colleagues and those we have connections with start off down 'that road' instead of staying put or worse, keeping our growing distance, he says 'go after them'.
At that same time in my life when I was being recklessly disobedient to God there was one person who always checked in on me. She knew what was going on, she knew it wasn't good but she refused to walk away from me. She demonstrated by her behaviour, as a Christian representing Jesus, that He still wanted to be part of my life, and if I wanted I could come back.
You know, tomorrow is Good Friday. A day to remember that from the bleakest and darkest of times, amidst the seemingly unfathomable and unspeakable grief, good can spring forth.
Can I encourage you ladies? Maybe you have become distant from Jesus, yourself. Know this, today, you can come back. These words were sent for you.
Or maybe you have someone close to you beating a path down a bad road. Stay with them, go easy, live the love you have been given and trust in the resurrection message… even the thing that seems dead and buried can take on new life in Christ.
And just while there's time to do it, why don't you organise an easter event? A coffee morning, a daffodil tea, a hot cross bun-feast, an egg hunt or just a walk in the country? Why not use it as a great way to invite friends to church?
This afternoon I am making up two little hampers of Easter goodies for two families in my street. It's not much but if there's one time of the year I want them to know about, it's Easter. When love refused to relent.
Happy Easter girls! More next week x