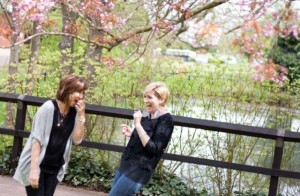 This month we have an amazing story from a wonderful, talented friend of Activate, Sharon Cooke.  You may remember Sharon is singer/songwriter August Wildflower, who sang at our Gala Dinner at this year's conference.   Here she shares her incredible story of God's faithfulness in the darkest of times.
It was the strangest feeling I had ever experienced. Waking up from total blackness, with no recollection of who I was or anything that had gone before. As I came back to consciousness, I could feel cold, wet Tarmac beneath me, and hear kind voices reassuring me as pain began to course through my body. I would later find out that on that rainy February night, a drunk driver had ploughed into me while I was on a pedestrian crossing, throwing me like a rag doll down the street and leaving me for dead. But the first miracle was that I wasn't dead, although, apparently for the traumatised eye-witnesses, it was the only outcome they could imagine. The strangeness would only increase as I was rushed into surgery to start piecing my bones back together. Ten hours later I woke from the anaesthetic in a state of extreme shock and pain. I felt like I was a little kid, freezing and alone on the edge of the world. And then, in the middle of the complete disorientation, an unexpected peace invaded. From somewhere nearby I could hear a gentle voice quietly but steadily saying:
'The Lord is my shepherd
I shall not want
He makes me lie down in green pastures
He leads me beside the quiet waters,
He restores my soul…
Though I walk through the valley of the shadow of death,
I will fear no evil, for you are with me…'
It seemed like somehow God had found me in the middle of nowhere and was whispering comfort to me in that lonely moment. I later learned that the nurse assigned to me happened to follow Jesus, somehow found out that I did too, and was speaking the Psalm over me as she oversaw my surgery recovery.
It took eighteen months and ten surgeries to put all my shattered bones back together. In that time I had marked experiences of what I understand to be supernatural healing. These experiences led to the two different consultants who summed up my case extending my appointments to hear the stories. They couldn't explain away my spontaneous healings from debilitating pain and then post-traumatic stress disorder, and wanted to understand what had happened. The most bizarre but beautiful moment was one of them walking me out of the appointment and asking me to pray for him that he would experience Jesus for himself. I don't know where you're from, but in England that is not really done in the medical profession!
There were so many touches of kindness from God, some very dramatic, but the simple act of him putting someone there at my most scared and vulnerable moment meant everything to me.
I was recently telling this story to a friend, saying that now when I get to those moments on the edge of what I know, I remember how God was my shepherd the last time, and he will be my shepherd this time. On leaving her, I picked up my phone and saw a completely unexpected message that threw me into another one of those extreme moments. And as the fear of the unknown hit me again, so did the comfort of knowing Jesus was right there with me, holding my hand at the edge of my world.