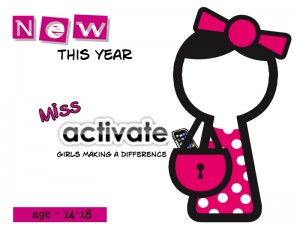 We are proud to announce a very exciting initiative that will be taking place at this year's Activate Weekend Away. This year we will be launching our brand new 'Miss Activate'!
For all our young women aged between 14 and 18 years, 'Miss Activate' will be an exciting opportunity to learn, grow, be inspired and make new friends.
The 'Miss Activate' stream is our desire to input into the women of the future, to influence tomorrow's community leaders and shapers.
'Miss Activate' will run alongside the regular seminars being featured throughout this year's Weekend Away and will provide specifically relevant teaching for girls wanting to make a big difference with their lives.
Sessions will include teaching, discussion groups, and practical sessions. Alongside these our 'Miss Activate' ladies will also enjoy mocktails and cupcakes, hot chocolate and muffins, a late night film and pyjama party on the Saturday evening,…..and so much more!
It's going to be a fabulous weekend. We look forward to you being part of it!